Sports
Columbus Blue Jackets Break TV Ratings Record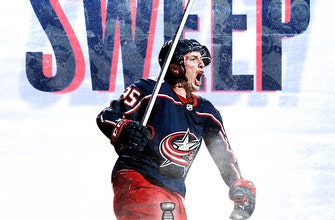 The Blue Jackets shocked Tampa Bay with a 7-3 win last night, completing a four-game sweep of the Lightning and getting the team's first ever Stanley Cup Series win. It's the first time a Presidents' Trophy winner has been swept in the first round.
The game delivered a 9.83 HH rating (approx. 90,000 Columbus homes) on FOX Sports Ohio, highest ever in franchise history.
Beating previous #1 rated game by +19% (8.27 HH on 4/21/2014 vs. Penguins)
The rating peaked at a 13.78 HH
The final hour of game play averaged a 12.46 HH rating
The 9.83 HH rating is over six times the regular season average rating (1.61 HH), which was the third highest regular season rating in franchise history (see below)
The 45-minute Blue Jackets Live postgame show delivered a 5.1 HH
The four-game series averaged a 6.48 HH.
Two of the top five rated CBJ games of all time have come this series:
9.83 HH on 4/16/2019 vs. Lightning
8.27 HH on 4/21/2014 vs. Penguins
8.08 HH on 4/26/2014 vs. Penguins
8.71 HH on 4/14/2019 vs. Lightning
8.02 HH on 10/7/2000 vs. Blackhawks – first CBJ game ever, simulcast with WBNS TV
FOX Sports Ohio is replaying the Game 4 win tomorrow, April 18, at 7 p.m.
Regular season rating perspective
Local Regular Season Ratings for Blue Jackets Games on FOX Sports Ohio 3rd Highest in Franchise History
FOX Sports Ohio's 2018-19 Blue Jackets regular season averaged a 1.61 household rating in Columbus
3rd highest ever for the Jackets on FSO
2nd highest rated season is their 2008-09 season (1.86 HH), when the Jackets had their first playoff berth, and their highest rated season in franchise history remains the 2016-17 season (2.09 HH)
Up +3% from last season's 1.59 HH, the team's 4th highest rated season of all time


Via FoxSports